Ingredients:
Chicken wings - not frozen
Any spices you have in your cupboards, except salt.
Soy sauce or Teriyaki sauce
Oil, sugar
Directions:
Place the wings in a bowl and sprinkle with any and every kind of spice you have around + soy sauce - salt.
I made mine today using cinnamon, chili powder, pepper, cumin, garlic powder, powdered ginger, onion powder, and pepper flakes. Mix well. If you have sesame oil, throw in some too.
Pour enough oil in a pan to cover the bottom, add the sugar (for about 20 wings, I used 3 full table spoons of white sugar - you can use brown too), mix until the sugar dissolves, then add the wings, cook for about 10 min each side or until done.
For my hubby, I mixed in steamed broccoli (blech). Serve over white rice, noodles, or as an appetizer.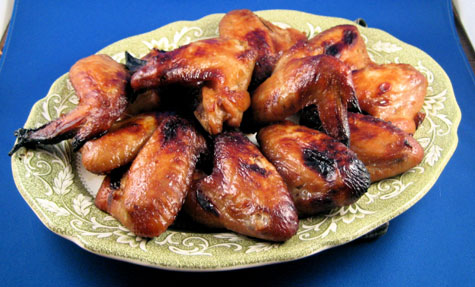 These are not my wings but I didn't take pix of mine and I like recipes with photos :)